Circle Book Group
The Circle Book Group meets monthly at BWC on Sunday mornings to discuss fiction and nonfiction books by Jewish authors and/or with Jewish themes. This is an open group that welcomes all readers interested in expanding their understanding of the wide variety of Jewish experiences throughout history and across the world. Previously discussed books are listed below. Book selections are chosen by participates at least one month in advance of meetings. Ideally there are 8 or more Minuteman Library Network copies available. To be added to Book Group email list and for more information, contact Fredi Dworkin.
--------------------------------------------------
UPDATE: Circle Book group meetings are curently happening virtually using Zoom.
NEXT MEETING:
Date: Sunday, October 16, 10:15 am
Location: Online, over Zoom
Book: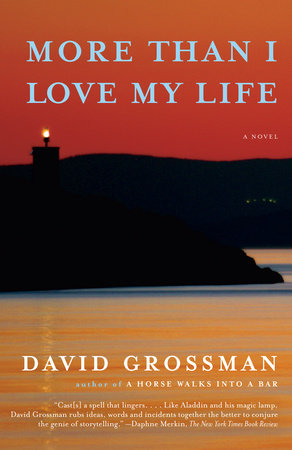 More Than I Love My Life is the story of three strong women: Vera, age ninety; her daughter, Nina; and her granddaughter, Gili, who at thirty-nine is a filmmaker and a wary consumer of affection. A bitter secret divides each mother and daughter pair, though Gili—abandoned by Nina when she was just three—has always been close to her grandmother.

With Gili making the arrangements, they travel together to Goli Otok, a barren island off the coast of Croatia, where Vera was imprisoned and tortured for three years as a young wife after she refused to betray her husband and denounce him as an enemy of the people. This unlikely journey—filtered through the lens of Gili's camera, as she seeks to make a film that might help explain her life—lays bare the intertwining of fear, love, and mercy, and the complex overlapping demands of romantic and parental passion.

More Than I Love My Life was inspired by the true story of one of David Grossman's longtime confidantes, a woman who, in the early 1950s, was held on the notorious Goli Otok ("the Adriatic Alcatraz"). With flashbacks to the stalwart Vera protecting what was most precious on the wretched rock where she was held, and Grossman's fearless examination of the human heart, this swift novel is a thrilling addition to the oeuvre of one of our greatest living novelists, whose revered moral voice continues to resonate around the world.
LEARN MORE ABOUT THE BOOK HERE.
-----------------------------------------------
This is an open group that welcomes all readers interested in expanding their understanding of the wide variety of Jewish experiences throughout history and across the world.
The Zoom information for this meeting will be shared closer to the event via email.
UPCOMING MEETINGS:
Oct 16
Nov 13
Dec 18
Jan 22
Feb 26
Mar 26
Apr 23
May 21
Jun 25
Past Circle Book Group reading selections have included:
People Love Dead Jews by Dara Horn
Florence Adler Swims Forever by Rachel Beanland
Can We Talk About Israel? by Daniel Sokatch
Journey to the End of the Millenium by A.B. Yehoshua
Concealed by Esther Amini
Super Sad True Love Story by Gary Shteyngart
Ghetto Brother: Warrior to Peacemaker by Julian Volaj & Claudia Ahlering
Second Person Singular by Sayed Kashua
The Last Kings of Shanghai by Jonathan Kaufman
Apeirogon by Colum McCann
1947: Where Now Begins by Elisabeth Asbrink
The Hilltop by Assaf Gavron
Unorthodox: The Scandalous Rejection of My Hasidic Roots by Deborah Feldman
The Tunnel by A.B. Yehoshua
Insomniac City: New York, Oliver Sacks, and Me by Bill Hayes
Tell Me A Riddle by Tillie Olsen
Rebel Cinderella: From Rags to Riches to Radical, the Epic Journey of Rose Pastor Stokes by Adam Hochschild
Dinner at the Center of the Earth by Nathan Englander
Learning From the Germans: Race and the Memory of Evil by Susan Neiman
Ecclesiastes
Adolofo Kaminsky: A Forger's Life by Sarah Kaminsky
The Jew Store by Stella Suberman
The Yid by Paul Goldberg
The Art of Leaving by Ayelet Tsabari
The Best Place on Earth: Stories by Ayelet Tsabari
My Promised Land by Ari Shavit
The Weight of Ink by Rachel Kadish
Kaddish.com by Nathan Englander
Dear Zealots: Letters from a Divided Land by Amos Oz, translated by Jessica Cohen
The Book of Daniel, a novel by E. L. Doctorow
The Death of an American Jewish Community, by Hillel Levine and Lawrence Harmon
The Marriage of Opposites by Alice Hoffman
Jewish Pirates of the Caribbean: How a Generation of Swashbuckling Jews Carved Out an Empire in the New World in Their Quest for Treasure, Religious Freedom--and Revenge by Edward Kritzler
Green by Sam Graham-Felesn
The Undoing Project: A Friendship That Changed Our Minds by Michael Lewis
Moonglow by Michael Chabon
(((Semitism))) Being Jewish in America in the Age of Trump, by Jonathan Weisman
Women in the Castle by Jessica Shattuck
The Hare with Amber Eyes by Edmund De Wall
Born to Kvetch: Yiddish Language and Culture in All of Its Moods by Michael Wex
The Museum of Extraordinary Things by Alice Hoffman
You Say to Brick: The Life of Louis Kahn by Wendy Lesser
Here I Am, by Jonathan Safran Foer
How About Never—Is Never Good for You?: My Life in Cartoons by Bob Mankoff
Buried by the Times: The Holocaust and America's Most Important Newspaper by Laurel Leff
Those Who Save Us, by Jenna Blum
Prisoner Without a Name, Cell Without a Number by Jacobo Timerman\
The Paris Architect by Charles Belfoure
Great House by Nicole Krauss
The Nazis Next Door: How America Became A Safe Haven for Hitler's Men by Eric Lichtblau.
Enemies: A Love Story by Isaac Bashevis Singer
Notorious RBG: The Life and Times of Ruth Bader Ginsburg by Irin Carmon and Shana Knizhnik
Tevye's Daughters by Sholem Aleichem
Frank by Barney Frank
An Officer and A Spy by Robert Harris
On the Move by Oliver Sacks
Boogaloo on 2nd Avenue: A Novel of Pastry, Guilt, and Music by Mark Kurlansky
The Family: three journeys into the heart of the twentieth century
The Jew in the lotus : a poet's rediscovery of Jewish identity in Buddhist India by Rodger Kamenetz
Portnoy's Complaint by Philip Roth
Scenes From Village Life by Amos Oz
The Bookie's Son by Andrew Goldstein
Bech, a Book by John Updike
Einstein: His Life and Universe by Walter Isaacson
Not the Israel My Parents Promised Me by Harvey Pekar and JT Waldman; epilogue written by Joyce Brabner; lettering by Charles Pritchett
Amerika : The Missing Person : a new translation, based on the restored text by Franz Kafka; translated and with a preface by Mark Hofmann, 2002
Berlin Stories by Christopher Isherwood
The Difficult Saint by Sharan Newman
In the Garden of Beasts: Love, Terror, and an American Family in Hitler's Berlin by Eric Larson
The Cross and the Pear Tree: A Sephardic Journey by Victor Perera
The Sacrifice of Isaac by Noah Gordon
The Adventures of Mottel: The Cantor's Son by Sholem Aleichem
My Father's Paradise: A Son's Search for His Jewish Past in Kurdish Iraq by Ariel Sabar
The End of the Jews: A Novel by Adam Mansbach
The Story of Yiddish: How a Mish-Mosh of Languages Saved the Jews by Neal Karlen
Beyond the Pale: A novel by Elana Dykewomon (also known as Nachman/Dykewomon)
The Merchant of Venice: modern version side-by-side with full original text, edited and rendered into modern English by Alan Durband
Escape to Shanghai: a Jewish Community in China by James R. Ross
The Assistant by Bernard Malamud
Scoundrel Time by Lillian Hellman
Heading South, Looking North by Ariel Dorfman
The Invisible Wall: A Love Story That Broke Barriers by Harry Bernstein
He, She and It by Marge Piercy
Loyalties: A Son's Memoir by Carl Bernstein
Seize the Day by Saul Bellow
Foreskin's Lament by Shalom Auslander
The Harlot by the Side of the Road by Jonathan Kirsch
Rashi's Daughters, Book I: Joheved by Maggie Anton
The life of Glückel of Hameln, 1646-1724, written by herself / Translated from the original Yiddish
A Tale of Love and Darkness by Amos Oz
Septembers of Shiraz by Dalia Sofer
Sacred Trash: The Lost and Found World of The Cairo Geniza by Adina Hoffman and Peter Cole
Peony by Pearl Buck
World's Fair by E.L. Doctorow
Can't We Talk About Something More Pleasant? by Roz Chast
Florence Gordon by Brian Morton
The Girl from Human Street by Roger Cohen
Farthing (Small Change) by Jo Walton
The Lion Seeker by Kenneth Bonert
At Home in Exile: Why Diaspora is Good for the Jews by Alan Wolfe
Little Failure: A Memoir by Gary Shteyngart
I Married a Communist by Philip Roth